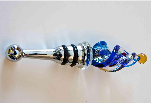 Tantalize your Taste Buds!

Putting a spin on wine tasting, Wakefield Winery offers personal free wine tasting focusing on the flavors of their wines, leaving pretentiousness (wine snobs) out in the street.

We offer wine tasting either at the winery or can be found promoting our winery at various festivals and events around the state of Oklahoma. It's always best that you call ahead (580-513-0707) to make sure we are at the winery. We have 5 award-winning wines, five Oklahoma State Fair winners and Norman's "Oklahoma Wine Walk" People's Choice Award for best sweet red (5 years running).
Wine tasting is free at the winery
PLEASE CALL 580-513-0707 BEFORE TRAVELING TO THE WINERY.
We are now shipping (click on blue shipping link to order online) wine in Oklahoma and U.S.

If a liquor store says they cannot get our wine, call 580-513-0707 or go online and and order it directly from the winery by clicking on the above "shipping" link.